It is best to do a fair amount of research before purchasing a handheld vacuum cleaner to be sure you get one that meets your needs. Check consumer reviews and other reports about handheld vacuum cleaners. Learn how consumers rate various models before making a decision. Learn which models offer the best features, such as lightweight portability, ease of use, and additional attachments for various purposes. Check stores for sales and discounts if you want to get the best deals, and always look for a warranty.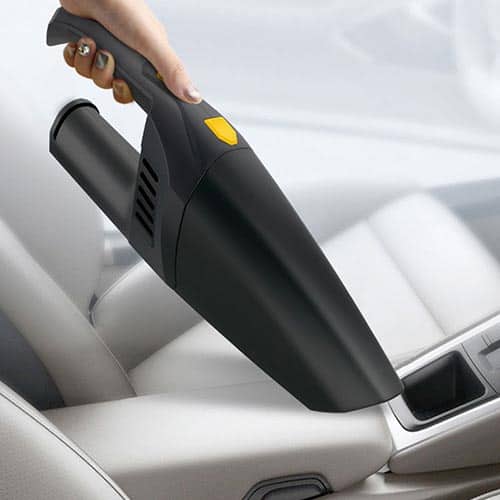 Handheld vacuum cleaners are more portable than other types of vacuums.
When you go shopping for a handheld vacuum cleaner, chances are you will be confronted with several options. Some models may be more costly than others, but feature more power or offer additional accessories. Whatever you plan on using your handheld model for, check suction power before purchasing one.
If you plan on using the handheld model for your car or boat, ascertain if it can be powered by your automobile's cigarette lighter. Otherwise, determine how long each charge will last. Some charges from a cordless vacuum will last between eight and 12 minutes, others much longer.
You'll want to be sure your handheld vacuum cleaner has an easy-to-empty dirt cup. Most of the newer models feature a bagless option. This allows you to simply empty the cup after it has become full. Check the size of the dirt cup as well. A larger cup will allow you to go longer between emptying, if that is a concern for you.
Be sure your handheld vacuum cleaner has a washable filter. Otherwise you will be replacing costly filters often. Filters made from foam generally have more durability than those made out of paper material. Also, some filters are equipped with a special allergen-trapping feature. It's a good idea to check the charging base as well. If you prefer to mount the base on a wall, many models will enable this feature. If you prefer to place the charging base on a table, see that the base remains steady when you lay it on a flat surface.
Some rechargeable cordless vacuum cleaners come complete as an upright stick variety that converts into a handheld. This allows for the convenience of having an upright in a very lightweight model. These types of cleaners allow you to detach a portion to convert it to a handheld vacuum cleaner, using it for stairs and small spaces.
Check to ensure the cleaner comes with a warranty. This is important if it should need to be repaired or replaced within the specified time. A store will typically accept returns within a limited amount of time, typically from 30-90 days, but your manufacturer's warranty will generally cover your product much longer, typically up to one year.