Sometimes it doesn't make sense to turn on a larger vacuum cleaner when you're trying to clean up pesky pet hair or treat crumbs from the couch. While larger, sturdier models definitely have a place in your arsenal of house cleaning supplies, when it comes to quick cleaning or hard-to-reach places, a powerful handheld vacuum may be an easier option.
Remember the dust collector? This is a great example of a cordless handheld vacuum cleaner, one that's designed to be grab-and-go, it's similar to a stick model, but you have to bend over after a meal to get the crumbs off the floor.
The portability of this kind of vacuum cleaner is also great when it comes to cleaning cars. However, handheld vacuum cleaners are designed to complement your heavy-duty models, such as canister or upright, but not replace them.
Vacuums come in all shapes and sizes because each is designed for a specific purpose. A hand-held vacuum cleaner is a scaled-down version of a regular household vacuum cleaner, which is usually small and light enough to fit comfortably in one hand, making it 'handy' for use in awkward places like stairs, tight spaces like cars, or dusty places corner. They also generally take up very little space and are quicker and more convenient for quick tidying between your weekly deep-cleaning and vacuuming routines.
When shopping, you may notice that handheld vacuums come in two options: corded or cordless, which means they either have to be plugged into an outlet during use, or run on battery power. More and more people are favoring the cordless version because it offers more flexibility since you don't have to unplug the cord and plug it in before use. However, corded handhelds have unlimited runtime, unlike cordless models that require charging.
Since handheld vacuum cleaners are only designed to handle smaller clutter, most people will benefit from owning both a handheld vacuum and a full-size vacuum. A real big vacuum cleaner is a must for every home, big or small, for thorough, correct and regular cleaning.
When you're in the market for a new handheld vacuum cleaner, we recommend that shoppers consider a few major factors.
What are the main surfaces I need to clean and what are the main substances to remove? For example, did you buy it to help deal with sand in the trunk of your car, food crumbs on a bare restaurant floor, dog hair on a sofa, or mixed crumbs on a carpeted staircase?
What accessories does it come with? Are there turbo-spin pet brushes, crevice tools, extension hose wands or electric spray nozzles for floors and carpets?
What is the size, weight and shape? Consider whether it will fit in the area you need and how long you can hold it before you get tired.
How much runtime is required per typical use? Are you looking for a quick debris pickup, a 10-minute home floor finish, or a 30-minute deep car cleaning? This will affect the runtime you are looking for.
How is the power triggered or engaged? Does the trigger need to be held down, or is there a power switch that stays on for extended periods of time?
How much suction potential does it have? More power generally equals more suction, so if you have wires, look at the amps, and if you're running on a battery, look at the volts.
How is dirt filtered? Is it a disposable bag or a bagless dust cup? Is the filter washable?
What life expectancy do I expect? For example, do you need it primarily for a job, or do you want to have it in the next five years? If you don't care when the vacuum breaks and like to throw it away and buy a new one every time, you can skip this part. But if you're concerned about minimizing wasted expenses and negative landfill/environmental impacts, buying a better quality brand that's properly "supported" can make a huge difference.
How long is the warranty and where or how will I get the warranty I need? Is there any online tech support, do you need to ship it to a remote facility or can you take it to a local repair shop?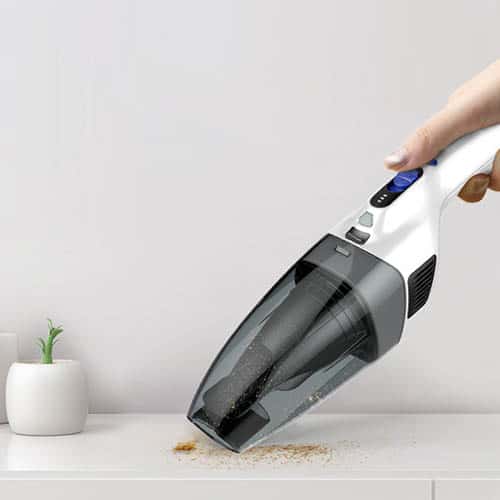 These features you should also consider when buying a handheld vacuum cleaner:
Brand.
Stick to an established and well-supported brand if you can. This will make it easier to purchase basic replacement parts for the unit. Also, make sure the brand has an easy and/or local way to fix it under warranty – these products have a high failure rate [and] you'll probably need it, many brands are popular and/or appear in on TV, but not supported on the 'backend' in real life.
Feel.
Try different handheld vacuums to make sure the one you choose feels comfortable in your hand, these can be unwieldy and heavy if your hands and wrists hurt, make sure it feels sturdy – when you're using it in tight spaces It won't become fragile and break easily when it's emptied, emptied, or replaced with accessories.
Removes dirt easily.
The smaller the bin capacity, the more often you need to empty the cleaned dirt. Make sure you can easily empty the dirt cup and clean its filter, as some can be very difficult and messy, which can also mean potential exposure to contaminants you wish to limit.
Electricity supply.
Depending on your intended use, it matters whether the model is cordless or battery-powered. If you're cleaning a car or boat, you probably don't want to be limited to having an outlet nearby, but if you're looking for more power indoors, you may prefer a power cord.
External battery.
Removable battery packs allow you to purchase and keep spare batteries for extended runtime. "If the battery fails, it can also be easily repaired. That way, the entire vacuum doesn't need to be replaced.
Rotary brush attachment.
If you need to remove a lot of pet fur or clean carpets and upholstery (whether on stairs or in your car), make sure it has an electric rotary brush attachment.
Dust removal tool.
If your handheld vacuum is primarily used to clean bare surfaces and wood floors, make sure it comes with a dusting tool with soft bristle edges. Many units only have hard crevice nozzles or the wheels that touch the floor are hard plastic that will scratch your home surfaces.
Other Accessories.
Look for a hand-held vacuum that has or can accept an extension wand and floor-cleaning nozzle. You think you just want to pick up the little crumbs and don't mind the occasional stoop, but you'll get a lot out of these attachments. Also, you can always pop them and return them to the base form for smaller, up-close tasks.