While handheld vacuum cleaners aren't ideal for deep cleaning every inch of your home, they do have some benefits. According to the experts we consulted, these include:
Lightweight.
Handheld vacuums can make cleaning dangerous stairs or high places safer.
Small volume.
This comes in handy when it comes to getting into cracks and storing the vacuum between uses.
Portable.
They're easy to fit in your car and well-equipped to eradicate rogue fries, beach sand and dog hair.
Handy to clean up a quick mess.
In its most basic hand-held form, performing any close-up work, such as a staircase, a furry sofa, or glitter on a craft table, is a breeze.
Many come with useful accessories.
Powerful hand vacuums with extension wands and floor-cleaning nozzles eliminate the need to bend over. Just use a dusting brush on the end and you can deal with cobwebs and dust on ceiling fans and moldings.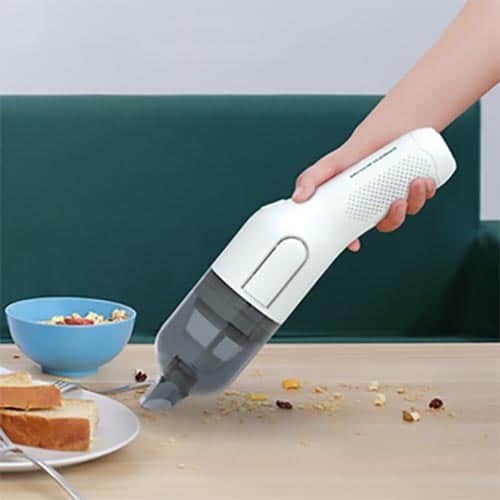 However, the importance of recognizing that there is no manual vacuum on the market today that can surpass or replace a "regular" corded full-size vacuum for true deep cleaning.
This category is a great, convenient addition to your cleaning routine, quickly disposing of debris and fur before they get into the floor. Handheld vacuum cleaners are best for quickly picking up food scraps after dinner, rather than going through the long, complicated 'gut' of a large vacuum, which can also sit there and rot after too long.
However, some of those pros are also cons — "99% of the time," these vacuums are neither bag nor cordless, and rely on rechargeable batteries. This means that even if the best of them aren't super strong, they still require a lot of maintenance to empty and clean them.
Also, due to the smaller size, the dustbin capacity of a handheld vacuum cleaner is smaller and usually does not hold a lot of dirt. They're usually lower quality, more fragile, prone to catastrophic electrical problems, and don't last as long as corded, bagged or full-size vacuums. Anyway, that's a price to pay for convenience, you'd better have such a smart product.
The above are the pros and cons of handheld vacuum cleaners. If you would like to find out more about Kelylands car vacuums, please feel free to leave a message online, chat with our team on WhatsApp +86 170 5109 5790 or send us an email at sales@kelylands.com. We always welcome your inquiries.