Selecting a suitable tire inflator among the available options is not an easy thing to do. Sometimes it can even turn into a frustrating experience. For this reason, many drivers prefer to be dependent on large and stationary air compressors that car workshops provide. But the real question is, does it work for all conditions? The answer is, of course, no. Those who drive a lot to foreign areas will know what it feels like to get stuck alone on a roadside after having a flat tire.
Especially when one wants to address such problems, having a portable and practical tool ready in hand is so important. Thus, we can all agree that a portable tire inflator is a vital item that one needs to prepare before a long drive. Unlike regular stationary compressors, portable items offer several features and settings that drivers can benefit from. The automatic setting is one example of the available features. The feature allows the device to work automatically whenever it detects unbalanced air pressure within the tires. Besides the above example, below are the other benefits of having a portable tire inflator.
It Is Easy to Use
People these days rely solely on the practicality that a product offers. It includes simple use and how they can benefit from the products. The same thing happens to portable tire inflators. Different from decades ago, today drivers are luckier since the presence of the item will bring them many amenities. One reason is that it is easy to use and faster operating speed. They only need to attach the device to the flat tires and push the button, and the device will work immediately. Some tire inflators even go further by inventing a feature that allows users to pump all four tires at once. Although the prices may be higher, the item proves dependable and practical.
It Saves Time
Another advantage that drivers can get is its ability to save time. Indeed, compared to the conventional method of fixing flat tires by bringing the car to the workshop, automatic action is pretty much needed to fix the problems in no time. Some brands are even equipped with a system that can pump a lot of air into the tires and finish within four minutes. In addition to it, using the device is also a safe choice for drivers. The device comes with certain safety features, and these features will make sure that nothing bad will happen during the operation.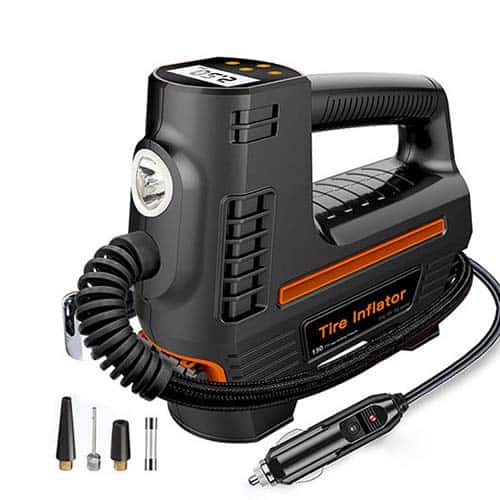 The above are 2 main benefits of having a portable tire inflator. If you are interested in our tire inflators, please feel free to leave a message online, chat with our team on WhatsApp +86 170 5109 5790 or send us an email at sales@kelylands.com. We always welcome your inquiries.