1. Purchase a complete set of car air pump
When buying a car air pump, it's best to buy it as a set to avoid trying to find accessories, which may not be suitable. Most car air pumps on the market are now sold in sets. Besides the air pumps, they also include tire pressure meters, power cords and gas tubes. Some car air pumps also come with power cords and multiple inflation connectors.
2. Car air pump power
The power of the air pump is chosen according to the vehicle types. When buying a tire inflator, a small car owner can choose a low-power model with a single cylinder. And a medium and large car owner needs to use a high-power model with a double cylinder, otherwise, the inflation time is very long. The dual-cylinder car air pump is composed of two working cylinders and has large power.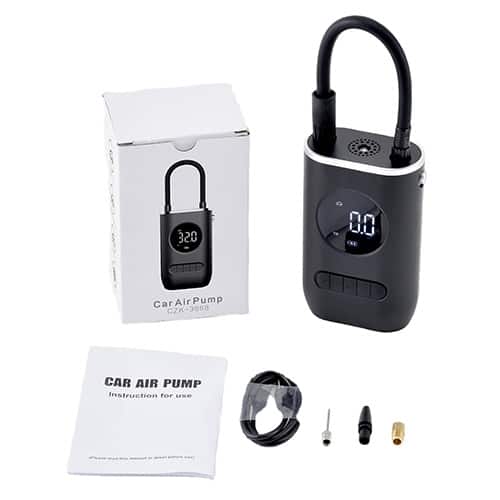 A Completed Set of Car Air Pump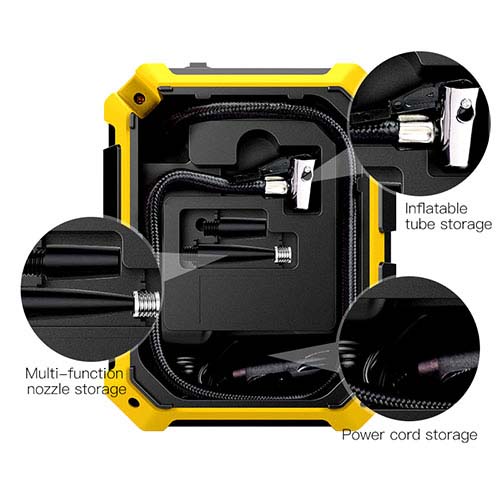 Cord Storage Of Car Air Pumps
3. Car air pump inflation speed
There is a big difference in the tire inflation speed of car air pumps. The low-power model inflates slowly, and the high-power model inflates quickly. If the car has large tires, it is recommended to use a high-power air pump, which can inflate faster. Generally, the tire size above 225 is suitable for high-power, and the inflation speed reaches to above 35L/minute.
4. The length of car air pump power cord
The power cord of the car air pump must be long, otherwise, it will be hard for reaching the tires during the inflation. The length of the power cord is best to be more than 2 meters, so as to meet the needs of inflating all 4 tires of the car.
Another thing is to consider whether it is convenient to take up the cord. The air pump cord is long. If you put it away casually, it will easily lead to premature aging and damage. Therefore, it is much better if there is a place in the air pump for collecting the cord, which can greatly extend its life.
In addition, the cordless car air pumps are currently popular, powered by rechargeable batteries, and do not need to be connected to the power supply in the car when working. Storage is also more convenient.
5. Quality of the car air pump tube connector
The tube connector is the most commonly used part for a car air pump, so its quality is very important. Good quality car air pumps are with a pure copper connector, which are durable, even if they are accidentally stepped on, they are fine. The connector of car air pumps are made of ordinary iron, which is easy to deform. You must know clearly when buying.
6. Purchase a car air pump with multiple connections
Because there will be various applications of the car air pump besides the tire inflation, when you buy, it is best to choose a car air pump with multiple connecting nozzles, so that its function can be fully used.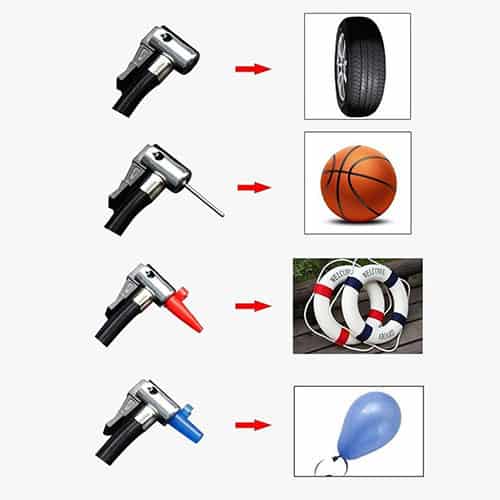 Multiple Connections For Various Applications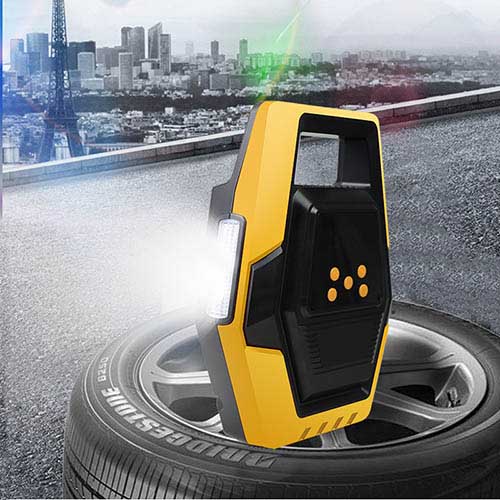 LED Lighting Function of Car Air Pumps
7. Purchase a multifunctional car air pump
The function of car air pumps should be multipurpose, such as with emergency LED lighting, so that it is very convenient to inflate at night, especially suitable for the people who often drive at night. And it will have a pressure meter, pointer or digital type is OK, just shows the actual tire pressure.
After reading above 7 suggestions, you should know a basic knowledge to choose a suitable car air pump. If  you are interested in our car air pumps and request for quoation, please feel free to leave a message online, chat with our team on WhatsApp +86 170 5109 5790 or send us an email at sales@kelylands.com.