The best part of camping is having chilled drinks. However, without some cooling, you might not experience this pleasure. So with summer just around the corner, we thought it would be a good time to get to know the different cooling solutions and explain how to get the best out of them.
Getting The Best Out of Your Cooler
Pre-chill It–Make sure the things you put in your cooler are already as cold as possible. If you can get away with pre-freezing items do so as this will greatly boost the cooling duration. Also, when buying food during a trip always shop from the chiller cabinet or freezer section where possible.
Fill It–When you open a half-full cooler most of its nice cool contents (the air) will simply drift away. Keeping it topped up with food or drinks will prevent this from happening. If you find yourself in the unfortunate situation where your shopping doesn't quite fill it up you'll just have to add a little more chilled beer or wine (what a shame).
Shut It–Try to minimize the amount of time your cooler is open and also put chilled items back as soon as you're finished with them.
Ice Pack It–Don't scrimp on the ice packs! If you have extra space and need more ice packs in a hurry fill some old plastic bottles with water and freeze them. Just remember to crush the bottles slightly before screwing them shut to allow the water to expand as it freezes.
Now you know how to maximize your cooling power, let's talk about the different coolers available.
If you follow our advice above when using a cooler box it can be effective for as much as 24-48 hours. That said it tends to be the larger versions that are able to provide 2 days of cooling. Generally speaking, cooler boxes are robust and good value for money, however, they are bulkier so make sure they'll fit the space you have available in your car.
It is also possible to achieve long-term cooling with a passive cooler box if you plan ahead. Many campsites provide facilities for refreezing ice packs so if you check for availability and take two sets of ice packs you can keep things cool indefinitely.
Increasingly popular and with good reason, thermoelectric cooler boxes allow cooling without using ice packs. Depending on the model a powered cooler box will cool between 15-25°C below the outside temperature. It is, however, important to be aware they are not fridges so will struggle to cool down non-chilled items, and on hotter days won't cool as well as in more normal conditions.
For power, most now have a mains option (domestic plug) as well as a 12-volt option (car cigarette lighter plug). As so many campsites now have mains hook-up available the mains option has become essential, however, they do need a mobile mains kit on most sites to connect them up.
Just one word of warning it is essential that powered cooler boxes are never run on 12 volts when the car's engine is switched off as this can quickly drain the battery. Instead when you reach your destination switch over to main power or (if a freezer is available) add ice packs and use them as a passive cooler box.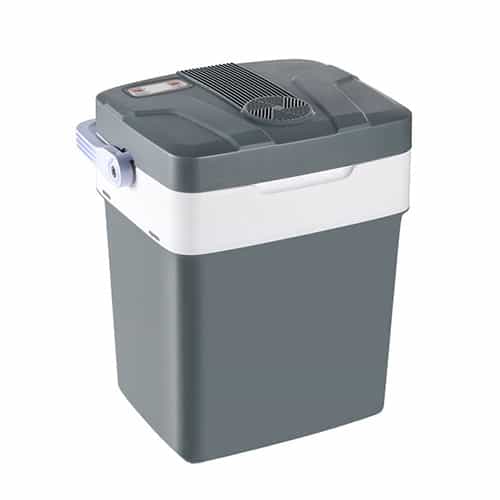 If you have any further tips for keeping things cool we'd love to hear them. If you would like to find out more about Kelylands coolers or cooler boxes, please feel free to leave a message online, chat with our team on WhatsApp +86 170 5109 5790 or send us an email at sales@kelylands.com. We always welcome your inquiries.